Grant Application Assistance
Application support for the 2023-24 application cycle has ended.  Please contact the AIE Manager, Michael Roberson Reid, at mreid@yanjep.org or (609) 243-9000 ext. 219 for more information about the next application cycle.  
THERE AR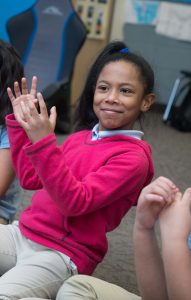 E FOUR HELPFUL WAYS TO GET SUPPORT FOR YOUR 2023 - 2024 APPLICATION.
1. Virtual Workshops: All applicants, particularly those new to AIE, are encouraged to attend a virtual AIE Grant Assistance Workshop. The workshops include an introduction and overview of the AIE Program, activities designed to help schools plan for and prepare an application, and a Q&A. You will hear from past participating schools, AIE teaching artists, and AIE staff. Attendees receive documentation for professional development hours as recommended by the New Jersey Department of Education.
Date and Time TBD | Community Day | 
Thursday, November 10, 2022 | 12:00 - 1:30 PM | Register HERE
Thursday, December 1, 2022 | 4:00 - 5:30 PM | Register HERE
Saturday, January 21, 2023 | 10:00 - 11:30 AM | Register HERE
2. Virtual Office Hours and Appointments: Have a quick question for AIE staff or want to gain more clarity on the application process? Pop in for one of our Zoom Office Hours. 
3. AIE Partners and Teaching Artists: Schools already working with an AIE Partner or teaching artist can include them on their Steering Committee. The Steering Committee works together to draft the AIE application, including the teaching artist's input on the art form, as well as the supply and equipment needs. Schools awarded the AIE grant that do not have a pre-existing relationship with an AIE teaching artist will have the opportunity to go through an interview process.
4. Early Bird Application: Schools that wish to receive feedback on their application should submit a strong, completed first draft of their application via the online portal. All applications will be reviewed by AIE staff and recommendations will be sent via email. The school will then have the opportunity to update the application prior to the March 3rd deadline. Early Bird Application Deadline: February 3, 2023 | 5:00 PM